Jeg fandt denne video for et stykke tid siden, mest af alt en dokumentar (in the making) om kvinder der står frem og fortæller om deres kamp i forbindelse med diagnosen bryst kræft – om deres opfattelse af deres ændrede krop bagefter.
Jeg håber, at den opnår den støtte den har behov for, for at blive lavet.
Den kan især være til gavn for dem, der har fravalgt rekonstruktion.
Den kan også ses her:
OUR DOCUMENTARY
"What is so bad about being a human being?" Asks the New York artist Melanie Testa, who has opted against breast reconstruction after her bilateral mastectomy. She and thirteen other breast cancer survivors from the USA and Europe step in front of the camera of photographer Esther Haase to celebrate the beauty of existence itself.
Another of them, Uta Melle, mother of two daughters, points out that "femininity does not depend on two curves." Like the others in the group, she denounces routine breast reconstruction because of the trauma of additional surgeries and the implied suggestion that society only recognizes women for how they look, not for who they are.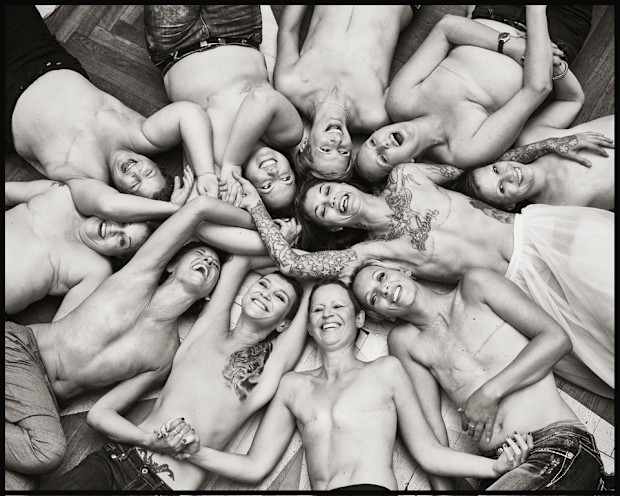 Saga Sofie Jouatte, Silke Kress, Alex, Uta Melle, Urte Evert, Thedra Cullar-Ledford, Britta Akdogan, Kirsten Pluntke, Simone Pfitzner, Martina Rüscher & Melanie Testa photographed by Esther Haase
"There are many of us. And we need to be seen." Adds Saga Sofie Jouatte and shows a message she got on her smartphone: "A picture of you helped me believe that I could remove the implants I hated. Thank You!"
"That's why we don't hide," they all state, "to strengthen other cancer patients with bilateral mastectomy. To serve as role models that our society isn't used to. Because everybody is different. Beauty is different."
And that's what it is about: 14 amazing and different queer as not queer people. We shot our new documentary LESS while spending days with these powerful women. We let the interviews and images follow as we captured how scars are uncovered, stories are told and friends are found. We noticed how perceptions of identity and diversity are altered when a life-or-death challenge like cancer causes a person's perception to change.
We came away from the experience with touching footage of our protagonists expressing their deepest thoughts – emotional and political, radical and poetic, courageous and often funny. Fourteen "Flattoppers" claiming the right to be visible, dreaming of a society where breast-cancer-scars are not a stigma, but rather a badge of honor for going through the hardest of times and emerging full of life.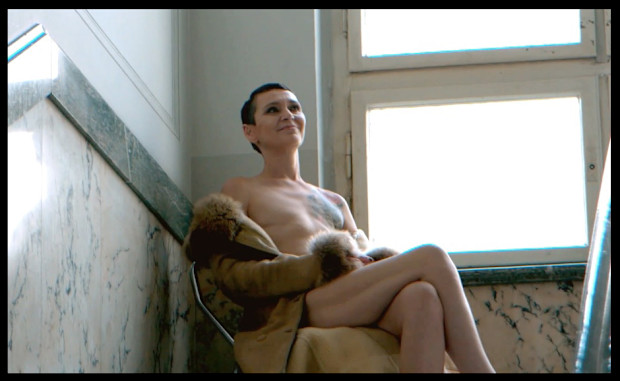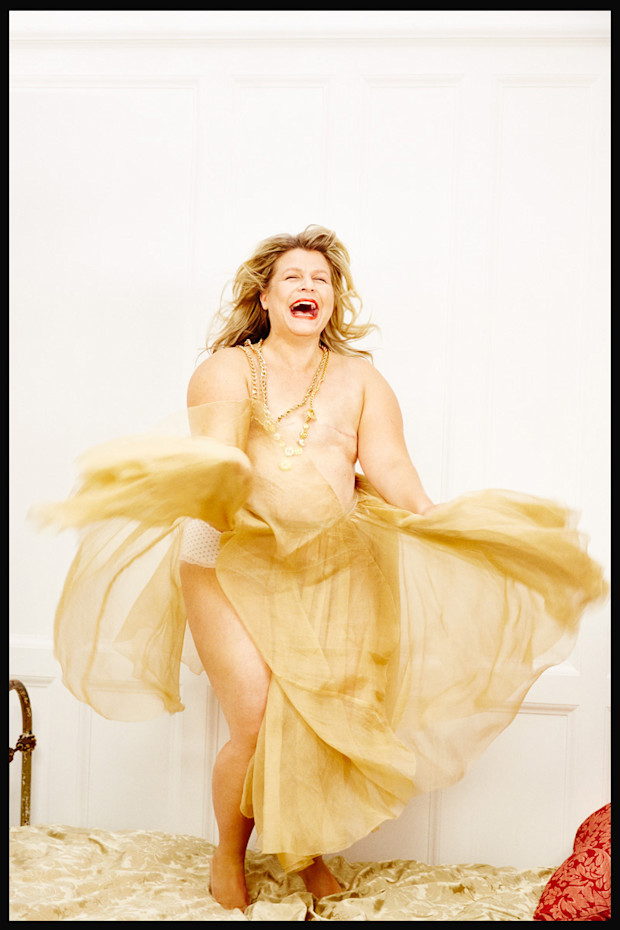 Britta Akdogan photographed by Esther Haase
WHY IT MATTERS
Breast cancer gets a lot of attention, but people with breast cancer mostly do not. While this film features breast cancer survivors, these brave women represent something larger. With the absence of their breasts, their so-called most feminine parts, they quietly question society's presumptions about what a woman should be or do. They are calling for something each of us desires – an accepting and compassionate society where we can all be ourselves, no matter what. We amplify their voices through film and distribution, helping in our small way to make the world just a little more understanding.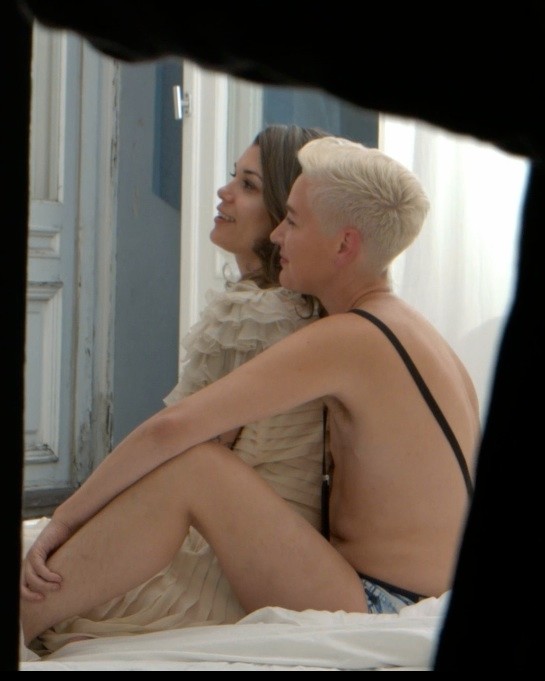 Emily Jensen and Saga Sofie Jouatte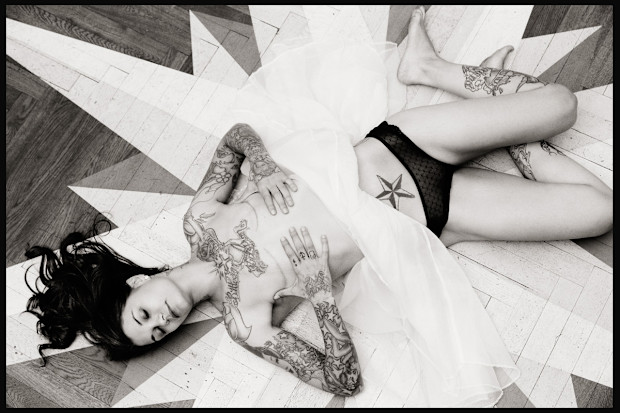 Saga Sofie Jouatte photographed by Esther Haase
OUR PROTAGONISTS
Our film's protagonists are housewives, artists, mothers, managers, activists and businesswomen. Some are queer, some are not. They are young and old, still in treatment, done with treatment, or back into the fight for a second or third round. Some have little chance of beating the disease but astonish with their life force. Each has a story to tell, of discovering who she really is and how hard she can fight to be herself. Meet them yourself – in LESS.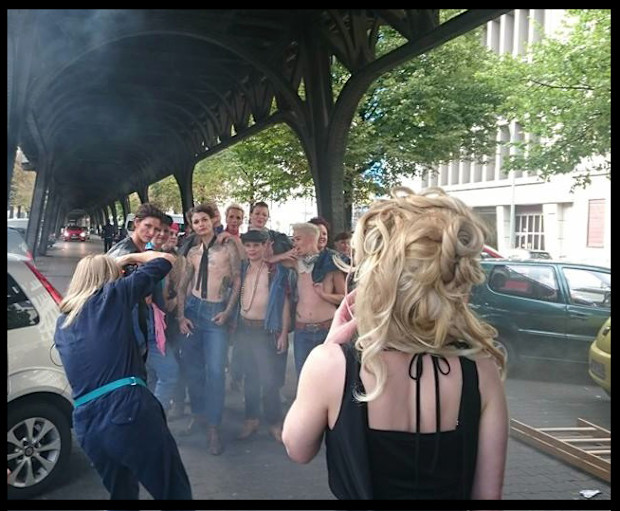 Esther Haase photographing our protagonists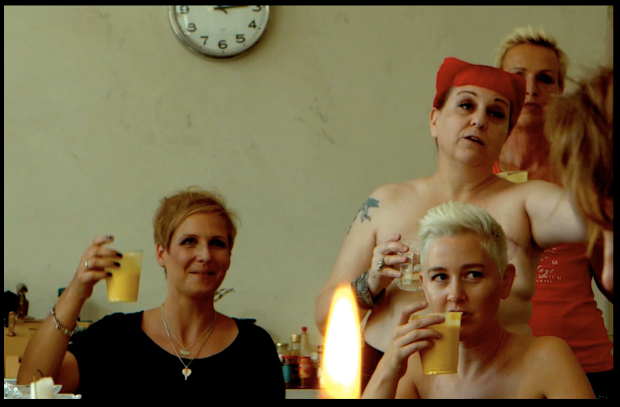 Simone Pfitzner, Emily Jensen, Thedra Cullar-Ledford & Silke Kress
HOW YOU CAN HELP
We had no budget or funding for this documentary, when Uta Melle invited us to document a gathering of women in Berlin on a Photoshoot of Esther Haase. Immediately convinced by the relevance of the topic we rushed to interview and capture them on film. We are not new to the film business, so we knew when we left that we had something very special that needs to be a feature-length documentary. While we have financed this project with personal funds to this point, all the work that remains requires the use of facilities and specialists who will require at least some payment to help.
We need the sensitive hand of an experienced editor in a rented editing suite to do a rough-cut to take into post-production. At that point we will need other specialists in a post-production studio for color grading, visual effects, soundtrack and a cinema-suitable sound mix to accomplish the final cut.
It is important for you to know what we will do with your donations:
–  55% goes to pay for the specialists
–  30% goes to rent facilities and equipment
–  7% goes for subtitling into English and German
–  the remainder (8%) goes toward Indegogo and Paypal fees
If we do not reach our funding goal, we will use the amount we raise to continue moving forward with LESS by cutting a rough draft. Be assured our documentary will be completed in any case.
Of course we would love to exceed our funding goal because there are even more expenses to come once the film is completed. We have ambitious plans: We want to place the documentary at major international film festivals (submission fees), bring it to the public (costs for all kinds of PR work), find the right cinema distributors, offer LESS to international TV channels (travel costs to screenings or to meet distributors and TV editors) and distribute it online. How wonderful would it be if, together with you, all these plans could come to pass!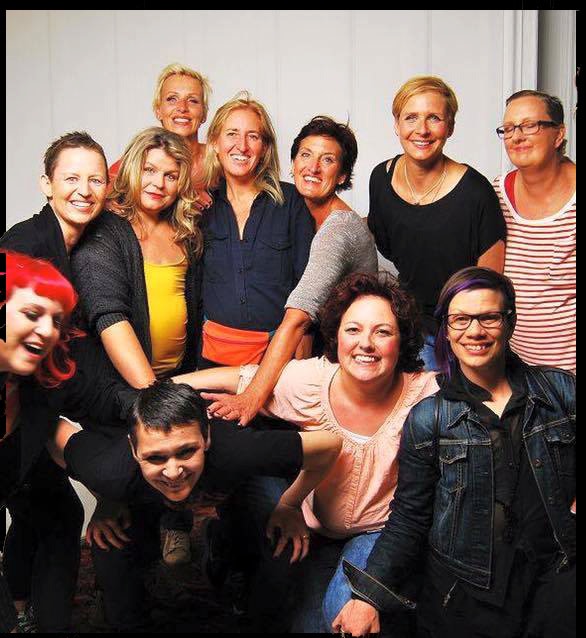 Our protagonists Uta Melle, Thedra Cullar-Ledford, Alex, Britta Akdogan, Silke Kress, Urte Evert, Simone Pfitzner, Martina Rü, Kirsten Pluntke, Melanie Testawith with photographer Esther Haase